The Bacitraycin Plus Benefits
Loved by families.
Preferred by healthcare professionals.
Bacitraycin Plus offers two formulations of first aid antibiotic ointment to help treat minor cuts, scrapes and burns with dermatologist and surgeon preferred ingredient. You'll love how it protects against infection and accelerates healing—your family will love that it's sting free.
bacitraycin original benefits
Three key benefits. Two healing ointments.
Prevents

Bacitraycin Plus prevents infections by reducing the growth of certain bacteria that otherwise could attack burns, cuts, and scrapes, which often lead to painful and dangerous infections.

Moisturizes

Bacitraycin Plus is the only national brand bacitracin ointment that contains moisturizing aloe vera to keep wounds clean and moist. By creating a moisturizing barrier, it helps prevent scarring even on the most delicate skin.

Heals

Bacitraycin Plus also contains the vitamin rich ingredient aloe vera, which clinical studies have shown offers both soothing and moisturizing skin health benefits. This makes it the ideal first-aid ointment that families have relied on for generations.
bacitraycin plus benefits
Gentle, effective formulas.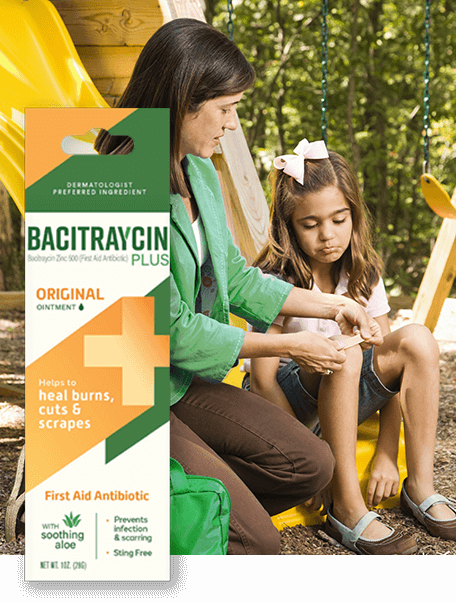 Bacitraycin Plus
Original Ointment
Bacitraycin Plus Original protects and heals with less risk of allergic reaction compared to other first aid antibiotics. It works so well on burns, cuts and scrapes as well as tattoo aftercare because it combines a dermatologist preferred ingredient with the power of soothing aloe. Formulated to prevent infections, it's gentle, sting free and the perfect healing ointment for every medicine cabinet.
Bacitraycin Plus
Maximum Strength Pain Relief
Packed with the same infection prevention as the Original formula, Bacitraycin Plus Maximum Strength soothes with aloe vera, and contains pramoxine, a topical pain and itch reliever. It's a gentle first aid antibiotic that helps diminish the pain caused from minor burns, cuts and scrapes. Parents love how it heals and how it reduces their little one's tears.